guide chapeau tilley
Tilley Hat User Guide by Alex Tilley :
or Much ado about... something worthwhile by Alex Tilley. Made in Canada where I can keep a close eye on every step.
Click here to discover our collection of Tilley hats!
Presentation of the Tilley hat
Tilley hat design
Where is the front of the Tilley hat?
How do you know if your Tilley hat fits properly?
Sweat... or exhale
The lanyard holds the Tilley hat in place
Adjusting the length of the cord on the Tilley hat
Take care of your Tilley hat!
The excellent UV protection of Tilley hats
Is it a little too big? Or too short?
Some advice from experienced Tilley hat owners
Tilley's little story
Insurance
Our Guarantee
Much more than hats!
Introducing the Tilley Hat :
I'm sure you'll be pleased with your new hat. Like a Rolls-Royce, it's exceptional and deserves to be talked about Designed in exasperation, the Tilley hat was born out of necessity. As an art dealer and advisor to major corporations, I had become quite demanding when it came to quality over the years. I couldn't find a hat that met my standards and was worthy of my little floating palace (a 9.4-metre Brandelmayr sloop, a jewel made of teak and mahogany, brass and fibreglass). A good sailing hat should float, stay in place, never shrink, last indefinitely and be beautiful In January 1980, I resolved to create this dream hat, not only for myself but also for all other sailing enthusiasts. Luckily I knew nothing about it: I didn't know that designing such a hat was then considered impossible! A milliner gave me advice on the design and a sailmaker on the materials to use. I then began the production of the hat in collaboration with a local hatter.
By March, a few prototypes were ready. My family and I put them to the test during a wonderful cruise in Belize - caressing winds, relatively low waves (because of the reefs), beautiful islands, sensational snorkeling and a warm atmosphere (On the last day of the cruise, while docking, I managed to wrap the mooring line around the propeller shaft)
That said, don't think the Tilley hat is just for sailing enthusiasts! It's just as suitable for an expedition to the desert or the Himalayan mountains as it is for a day of gardening, golf, trout fishing or a rainy walk in London. It is even distributed to members of the Canadian Armed Forces in times of war and for peace missions.
Your Tilley hat is virtually indestructible, although your dog might just prove otherwise. The 10 oz. cotton sailcloth and 11 oz. hemp, which is waterproof and mildew resistant, are the best of their kind.
Tilley hat design:
Each LT and LTM featherweight hat is made of Nylamtium® Tilley, a tough, water-resistant and mildew-resistant nylon. The ventilation grommets are made of solid brass imported from England. The Tilley hat is entirely handmade (small but very powerful sewing machines are of course used to assemble the strong fabric). Don't worry, the strong threads won't come undone; the seams are knotted stitch, as are all the seams in everything we make.
All LT and LTM hats are sewn with a cotton thread that swells on contact with water, forming a seal at each stitch. Is there a risk of rain seeping in through the ventilation grommets and net? Yes, but so little... just enough to cool you down. Tilley hats are not firemen's hats.
Where is the front of the Tilley hat?
The knotted part of the drawstring and the assembly seam of the headband and brim go to the back. Also, if you see the "TILLEY HAT" label on the right side when you put your hat on, it's the right way up.
How do you know if your Tilley hat fits properly?
The Tilley hat is the most comfortable there is. It is designed to be worn low and not too tight. It is held in place by gravity, not by squeezing the head. There should be enough space between the front of the hat and the forehead so that you can easily slide two fingers flat. You should be able to rotate the hat from left to right and tilt it from front to back without feeling any friction on your forehead. When it's windy, use the cord! You will surely appreciate this feature, especially in hot and humid weather.
Sweat... or exhale
Every pore of the skin releases healthy moisture. Without this perspiration, our body could not control its internal temperature and we would not be able to survive. Of all the parts of the body, the head gives off the most heat and requires the most control.. It is important to protect the wonders it contains! Ventilation grommets and mesh allow heat and moisture to escape. The Hydrofil® headband is soft and comfortable and helps absorb sweat from the forehead.
The drawstring holds the Tilley hat in place
The tie cord is a long shoelace simply tied at the ends. When the wind blows, slip the knotted part behind your head and the rest under your chin. The sliding knots slide easily to allow you to adjust the length. If the wind is light, you can use only the back part, just like an RCMP or State Trooper hat. (It took me weeks to find this simple method to keep the hat in place when it's windy)
Adjusting the length of the Tilley hat cord
To tighten the cord under the chin, slide the knots on the back of the cord away from each other until you are satisfied. When you don't need the cord, remove your hat, bring the knots closer together, and store the cord in the hat cap. Some people slip it into the pocket at the bottom of the hat. Me, I prefer to leave it as it is! Like the Titanic, it floats, but it can also sink. The air stored in the water-resistant fibres helps your Tilley hat to float, but it owes its buoyancy mainly to the layer of closed-cell polyethylene foam inserted in the cap. This foam has also cushioned the coconut more than once! (Some even told us that it saved their lives!) Some waves can make your hat stall... and you too, for that matter You'll find that your Tilley will not stall - or fly overboard either - as long as the cord is in place behind your head and under your chin. The hat has good buoyancy in relatively calm water; waves and rapids can sink it and keep it on the bottom for hours It's up to you to take the precaution of tying him up. The lanyard is like a seat belt; it is useless if you don't "buckle" it.
Take care of your Tilley hat!
Washing instructions :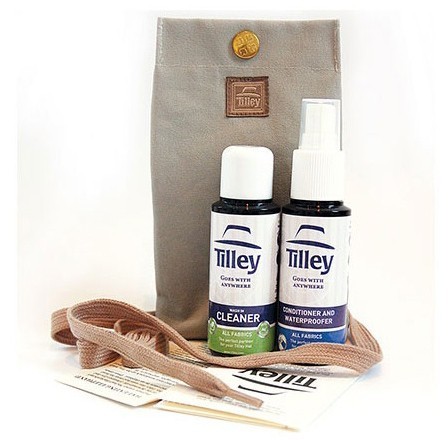 Your Tilley hat could one day become part of your family's legacy! Wash it often and it will last a long time Perspiration secreted by the skin can damage the fabric and ruin your Tilley. As you do with your clothes, wash your hat often to prevent stains produced by perspiration from soaking into the fabric.
You can

machine wash the hat in warm or cold water, or wash it by hand with a soft brush and soap,

powder soap, liquid soap or even shampoo

The hat is not bleachable. Do not use soap containing bleach. If your old Tilley hat yellows because you inadvertently used bleach, use TINTEX bleach to correct the mistake.

While it is still wet, restore it to its shape with your fingers and let it air dry. (You don't need to dry it on an upside down pan!) Don't tumble dry it; it will come out deformed and look very sad.

When it's dry, stretch it out like American sailors do, putting your knee in the cap and pulling hard. We've preshrunk the fabric mercilessly, but just like jeans, it can contract and expand. When you need a little more room - in hot, humid weather for example - take off your hat and stretch it a little with your knee.
Water Resistance :
LT and LTM hats have the water resistance you want. With each wash, other hats lose some of that resistance. To restore it, we recommend the use of a waterproofing spray. Even a Rolls needs a tune-up from time to time!
Creases :
Wrinkles in the corner of the eye are attractive, but not on the hat! To remove wrinkles from your hat, fill the cap with warm water and shake it a little. Also wet the outside of the cap. Your hat will arrive at its destination without wrinkles even at the bottom of your suitcase if you stuff the cap with socks and underwear.
The excellent UV protection of Tilley hats
Tilley hats are certified to block 98% of harmful UVA and UVB rays and offer a UV Protection Index (UPI) of 50+, the highest rating available. And because Tilley hats are guaranteed for life, this may be the last sun and rain hat you buy. In addition to the protection offered by Tilley hats, we strongly recommend that you use sunscreen with an SPF 15 and sunglasses that filter UVA and UVB rays.
Is it a little too big? Or too small?
If it is too small, it will be almost impossible to stretch it to the right size. If you decide not to return it, you can always sell it to someone you know. If your cotton hat is slightly too big but you still prefer to keep it, you could soak the cap and headband in hot water for about three minutes and then let your hat air-dry completely without stretching it; it should shrink by about a point. Or add a strip of terry cloth or soft fabric to the headband. Please do not return it to us if it has been worn or if you have tried to change its size.
Some tips from experienced Tilley hat owners
Using an indelible ink pencil, write your name and phone number (with area code) inside the hat (history buffs can add the date of purchase). If you lose your hat, you may have a better chance of having it returned to you.

At the beach, or simply for the unexpected, keep a key, business card, credit card or a few emergency tickets in the pocket at the bottom of the hat.

Sailing, walking or hiking in the rain? Wear the hat under your hood. You'll be warm, and you'll enjoy better protection. Your hood will follow the movements of your head. Your glasses will also be better protected.

Brass acquires a superb patina on contact with salt air.

When the front of the Hydrofil ® headband gets wet, turn your hat over... the back edge takes over. And what a good thing, the fit is not too tight.

Don't know where to store your glasses? Slide the temples of the glasses into the two ventilation loops on the side of your hat; the inner Velcro® tab will secure your glasses in place. Most glasses will fit snugly. Of course, the LTM and TM (mesh) hats do not include ventilation grommets.
The Tilley story
In 1980, from the basement of the house, we began selling the Tilley hat by mail order. By 1981, we'd already created the classic Tilley shorts, which are virtually indestructible. The shorts and hat proved their worth during the 1982-1983 Single-handed Round-the-World Race and were worn by the Canadian team at the Cup of the Americas in 1983 and 1986 (Tilley hats, the classic shorts, the GAMP [multi-pocket vest] and all jackets, vests, pants, shorts and skirts Legends Non-conformers have a free lifetime replacement warranty against wear and tear) In 1984, we embarked on the great adventure that has become Tilley Endurables and we have benefited greatly from the experience we have gained!
Today we design, manufacture and sell classic and elegant travel clothing for men and women. Durable and comfortable, our garments have secret pockets and security pockets to protect your valuable items. Their washing instructions are unbeatable: "Give them a hard time! "You'll love our catalogue. We strive to produce the best in the world and, with your suggestions, we are constantly improving the quality of our products. In winter, you will love wearing our elegant, warm woolen hats that are water and snow resistant.
Insurance
All Tilley hats are covered by an all-risk insurance policy with a 50% deductible for two years. If your hat is lost, stolen or destroyed within two years of purchase, we will replace it at 50% of the regular list price, plus taxes and shipping. See the insurance policy for more details.
Our guarantee
If, by chance, your Tilley hat (not bleached) wears out, please mail it to us with a cheque for $7.50 (in North America), £4 (in the UK) or $15 (in other countries), or provide your credit card name, number and expiration date to cover shipping costs and we will replace it free of charge. If you wish to keep your worn-out hat, we have no objection!
Much more than hats!
Finally, you will find "buddy coupons" at the bottom of the hat. But be careful, they could get you in trouble! Read them and you'll see! Contact us when you've used them up and we'll send you more at no charge! Make the most of your Tilley hat and share it with others!
Today, they are available in thousands of stores (listed on our website) in many countries. Our FAST DRY underwear actually dries overnight. You will prefer them to all others for reasons too numerous to list here. Our FAST DRY socks are guaranteed "no holes" for three years even on teenagers' feet! They also dry overnight and are exceptionally comfortable. Our catalogue and our associated retailers are waiting for you. Tilley. The best hats and travel clothing in the world.
P.S.: THE LITTLE JOYS OF LIFE. Occasionally, you may meet exceptional people thanks to the Tilley hat. And beautiful friendships are born from these encounters. That's one more thing that's worthwhile! Much more than hats! Twenty-five years later, the Tilley hats that became famous overnight are still as popular as ever.
Click here to discover our collection of Tilley hats!
Tilley Endurables, Inc. 2006