FAQ- Frequently Asked Questions
I would like to place an order on your website, how do I proceed?
Step One: Click on the desired product and choose the desired size (using the drop-down bar).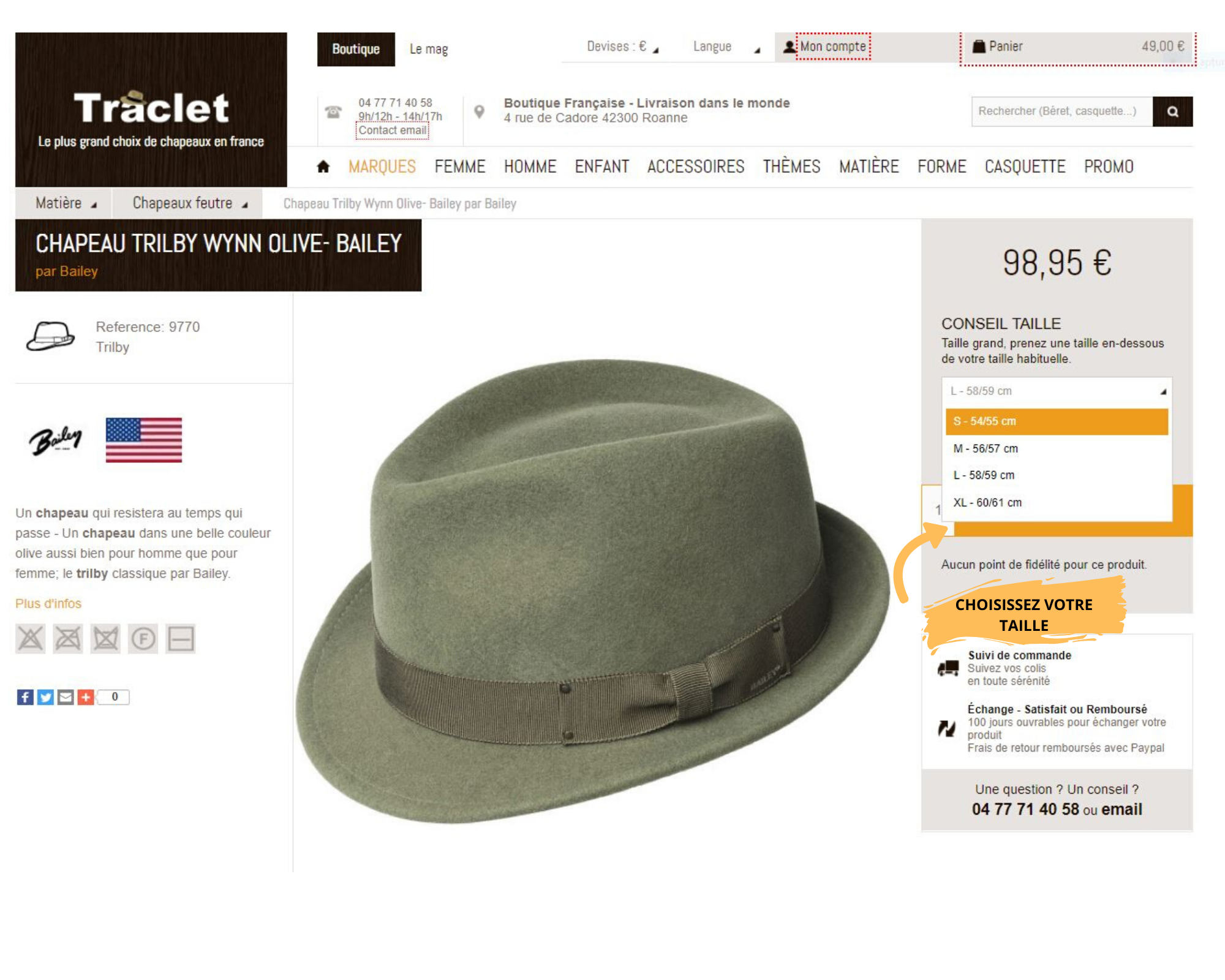 Step 2: Add the desired quantity and add it to the cart.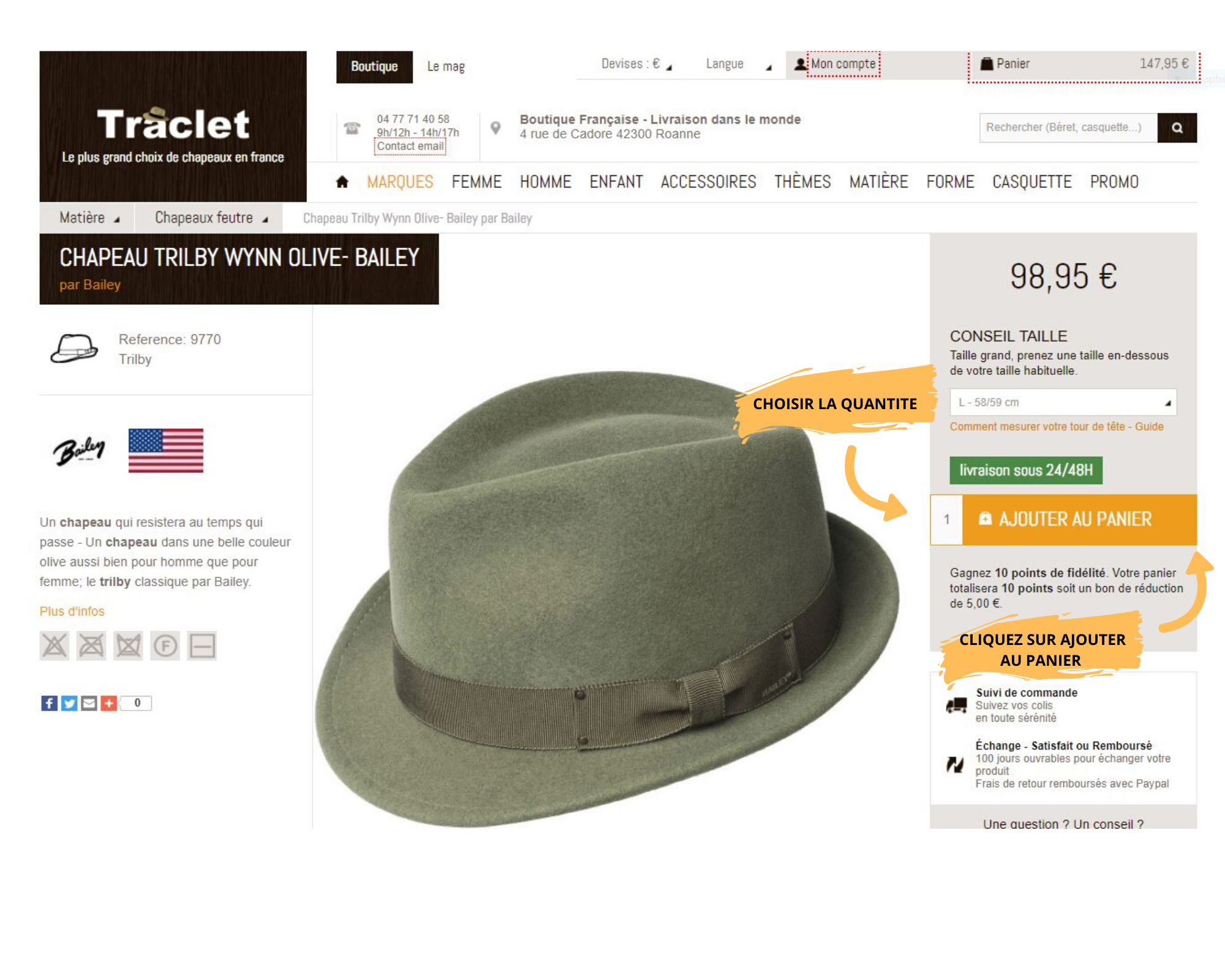 Step 3 : Add your payment method and validate it: You will then be asked if you wish to validate your order or continue shopping.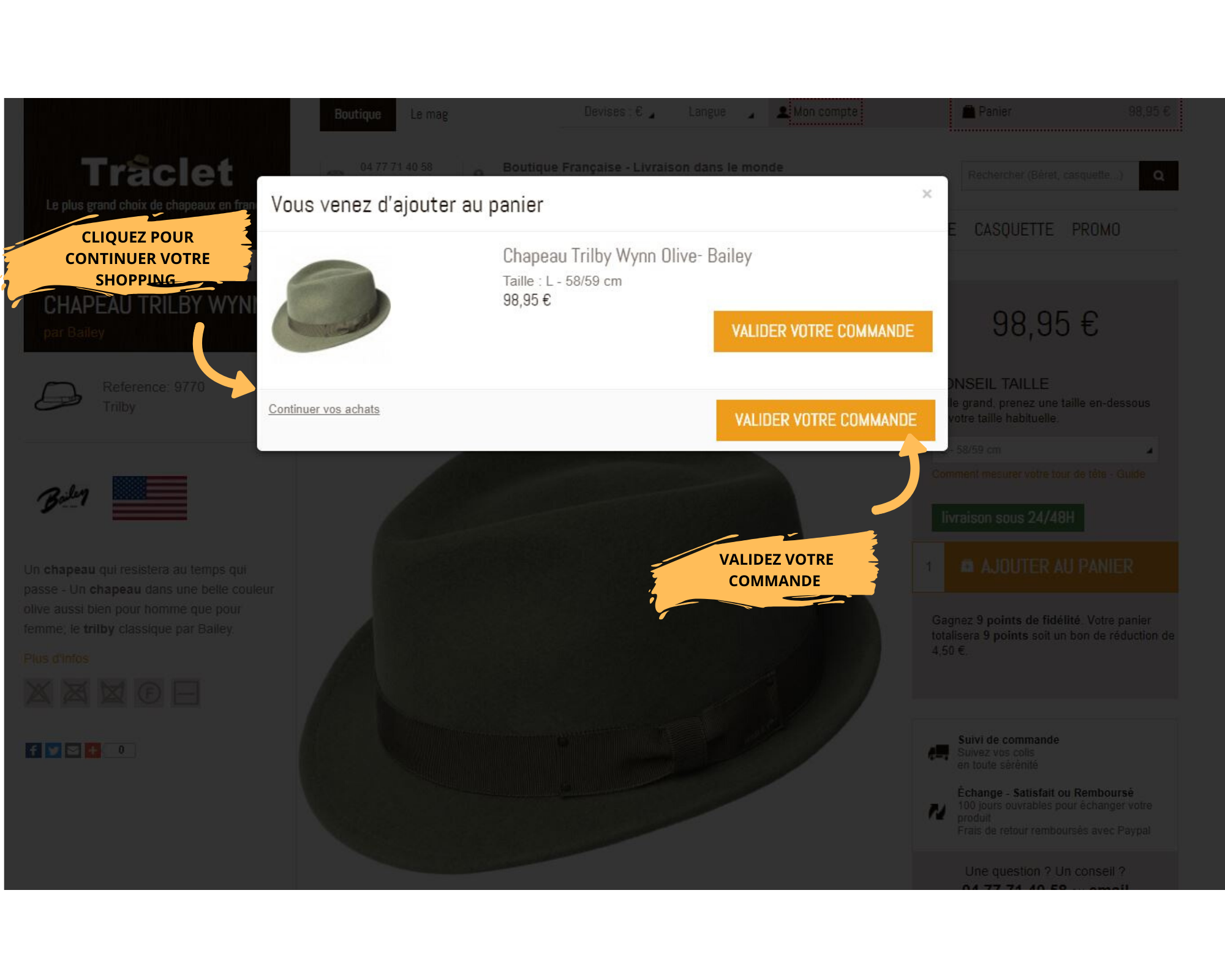 Step 4: Click here: You will then be directed to an order summary, check the product and its size before validating it.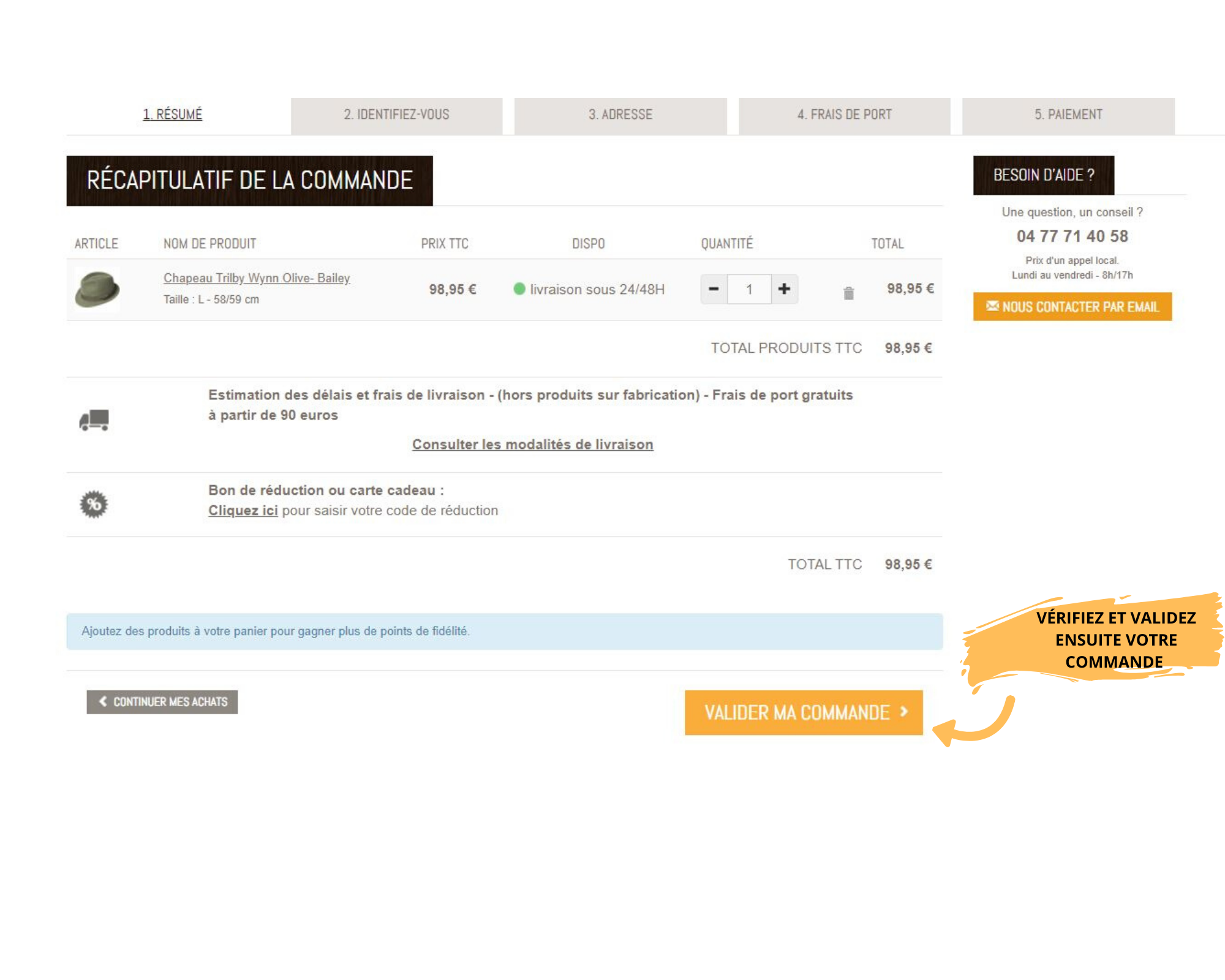 Step 5 : Step 9 : Step 10 : Step 11 : Step 12 : Step 13 : Step 14 : Step 15 : Step 16 : Create your account or log in if you already have one. For this step, you must enter an email address and a password.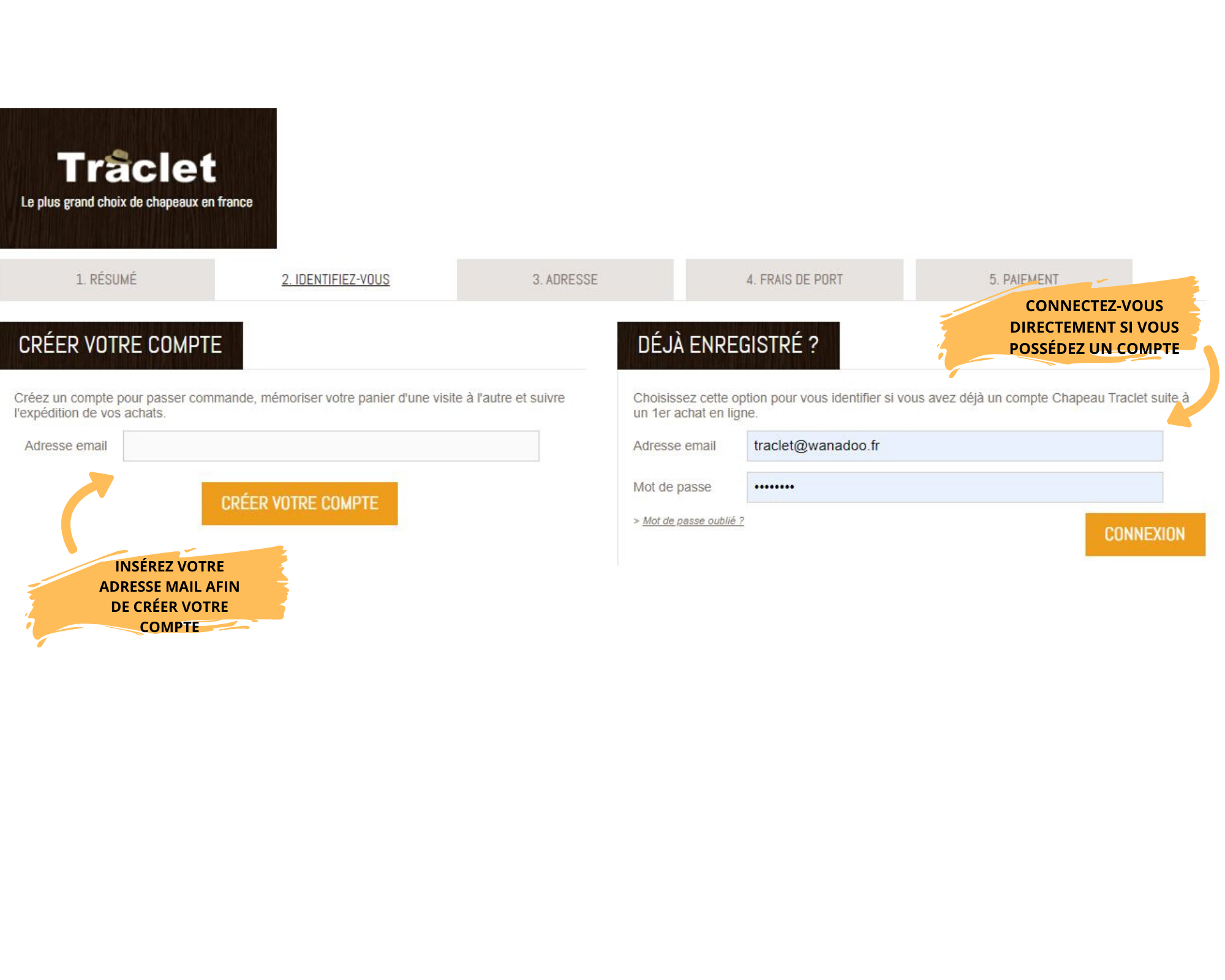 If you have lost your password, don't panic! Just click on the tab "

Forgotten your password?

"and you will be asked by email to reset a new password.
Step 6 : Step 6 Add your contact details (delivery address, email address, phone number,...) if you haven't already done so.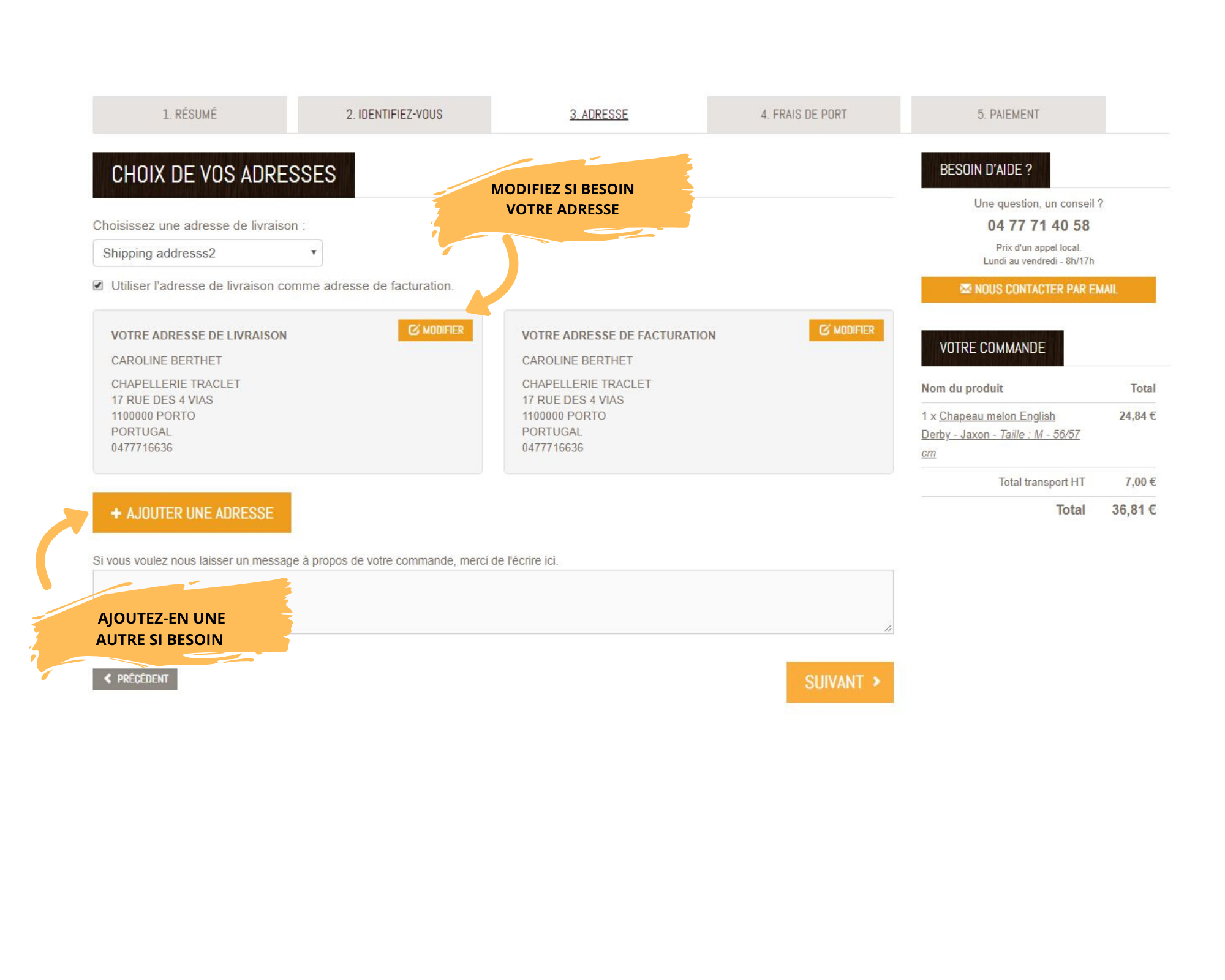 Step 7 Choose your means of delivery among those we offer.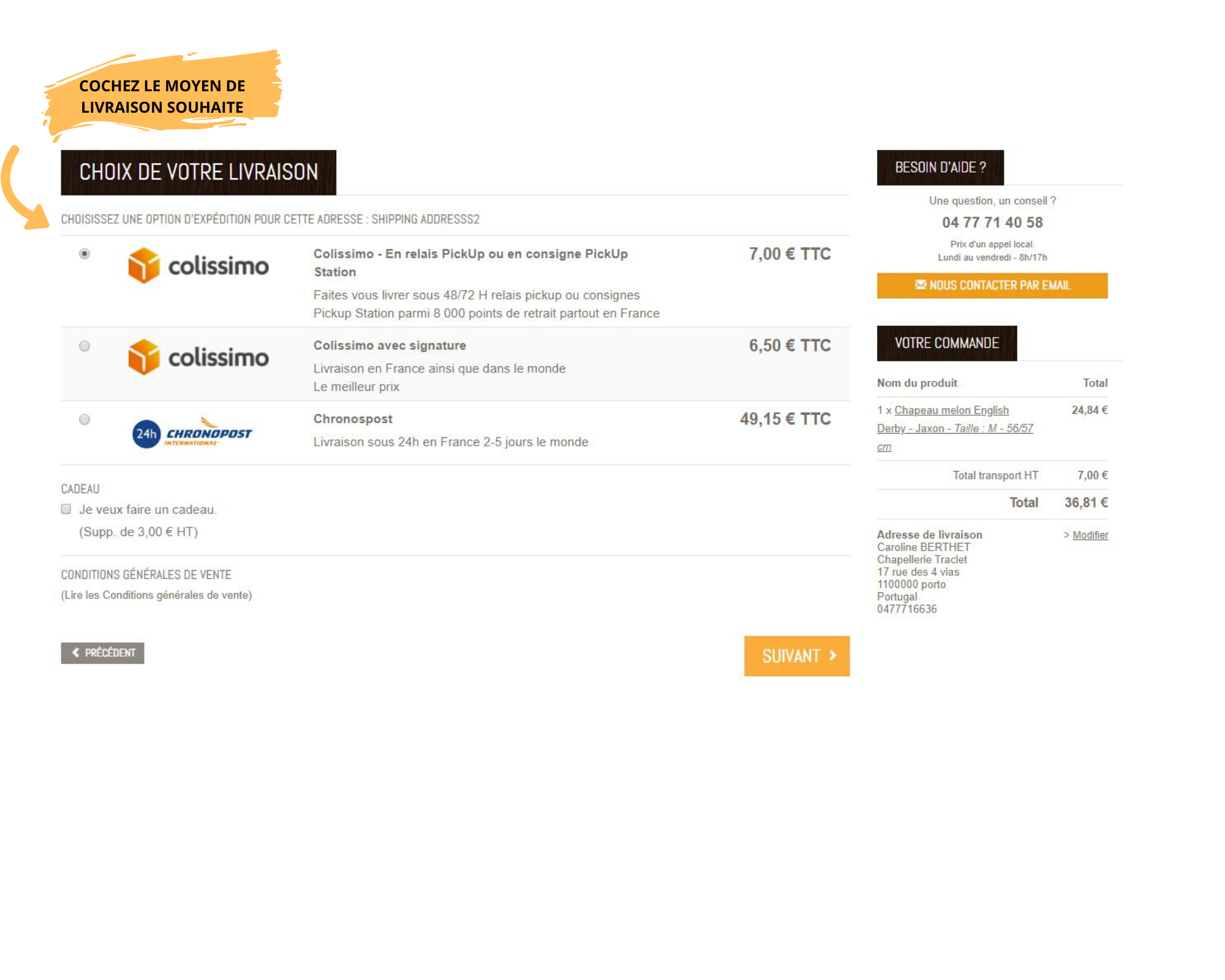 Step 8: Add the quantity you want and add it to the basket: Choose your payment method and validate it.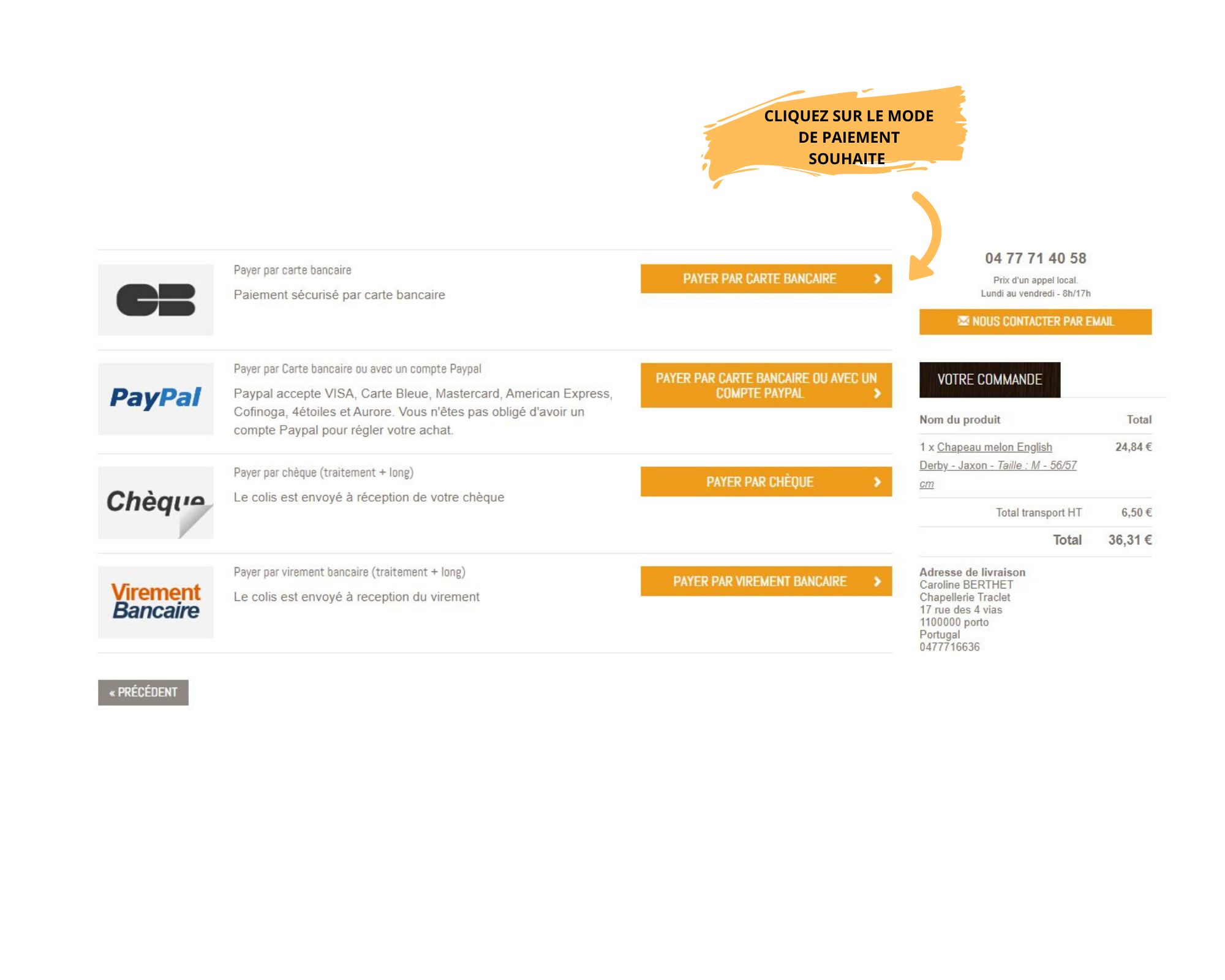 Step 9 : Step 9 Once the payment has been validated, your order has been placed! You will then receive a confirmation email with the invoice and information about its shipment and the tracking of its delivery.
You will also be able to follow its progress from your account on our website.
I'm having second thoughts about my size
We strongly advise you to measure your head circumference with a tape measure. If it is possible, get help to get an exact size.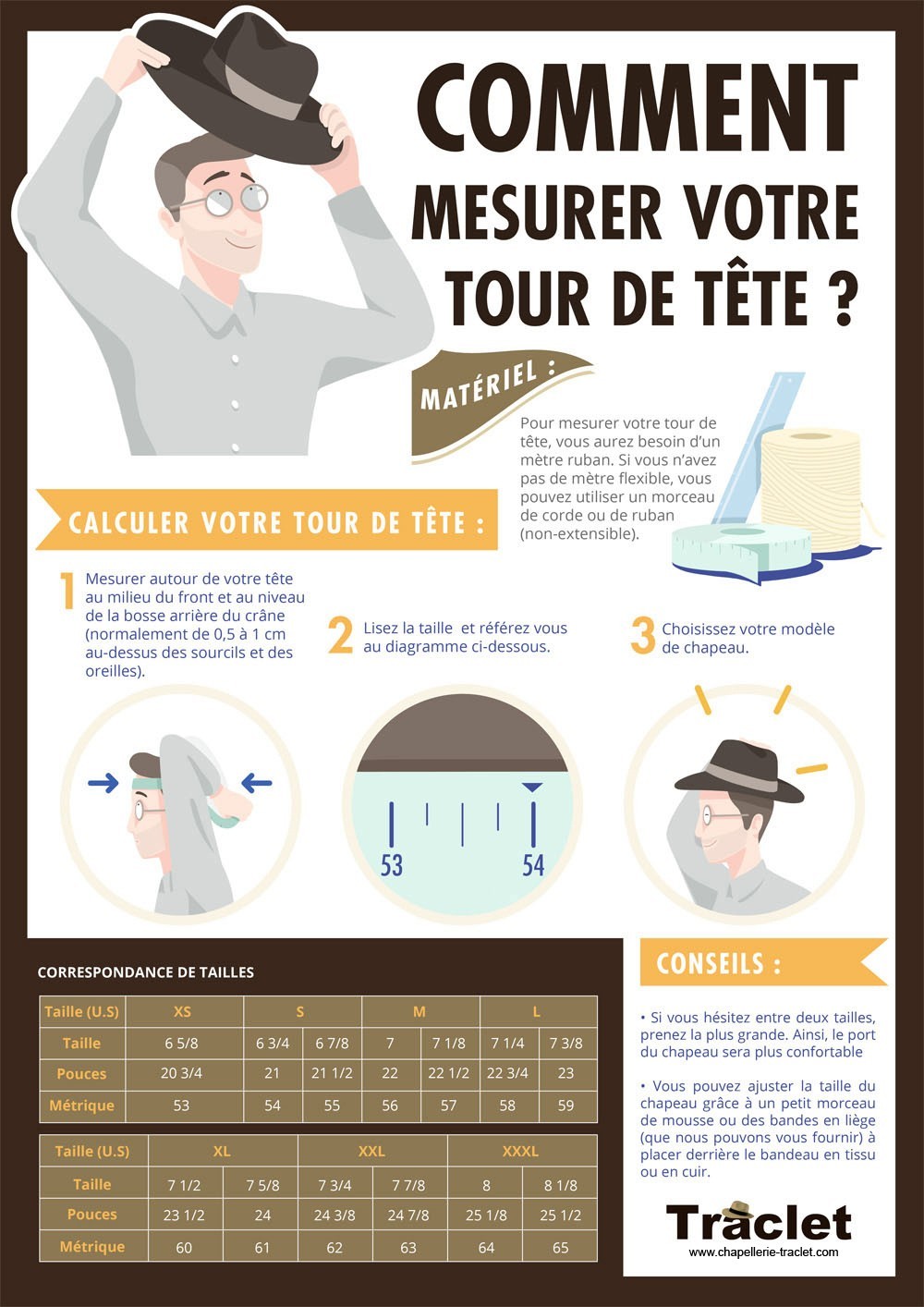 For more precise information, here is a link to our page dedicated to the size guide.
For some brands, it is advisable to take one size above or below, as for example for the American brand Stetson, which is about 1 cm larger. These tips are to be taken into account when placing the order, however they may not be suitable for everyone.
How to use a promotional code?
When you have added products to your basket and you wish to place an order, you can add a promotional code. Simply write it down in the "Discount coupon or gift card" section and click on the thumb in the air. It will automatically be added to your basket.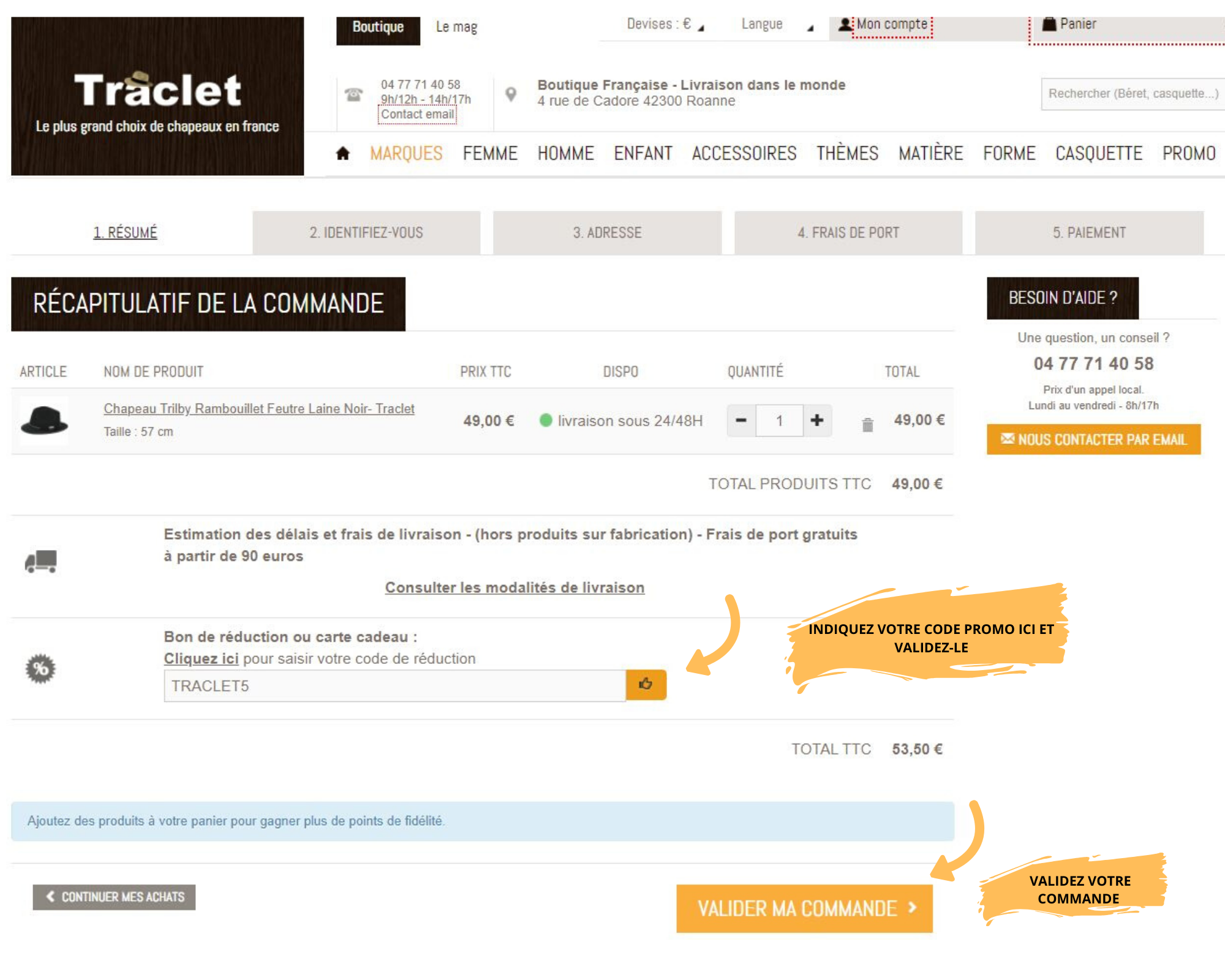 If it does not work, it is possible that you made a mistake or that it is simply no longer valid or usable on certain products.
When will I receive my order?
As soon as we receive your order, it will be processed as soon as possible, between 24h-48h. You will receive an email as soon as your order is sent, in which you will receive all the information you need, such as your order number and the tracking of your package.
You can also access this information by logging in to your Traclet Hatteries account.
Delivery times depend on the carrier chosen at the time of the order.
LaPoste Colissimo: Delivery between 48h/72h.
Chronopost: Delivery within 24h for orders placed before 2pm.
Tnt Express: Delivery within 24h for all orders placed before 2pm.
La Chapellerie Traclet is not responsible for delays in delivery. Once the parcel is handed over to our carriers, its delivery then depends on their services.
I have not received any e-mails concerning my order
Please check your inbox carefully, especially in case of spam. It is possible that our emails may be treated as junk mail.
You can also check the emails received and exchanged with our team on your account at the Chapellerie Traclet.
Log in to your account, using your email address and password.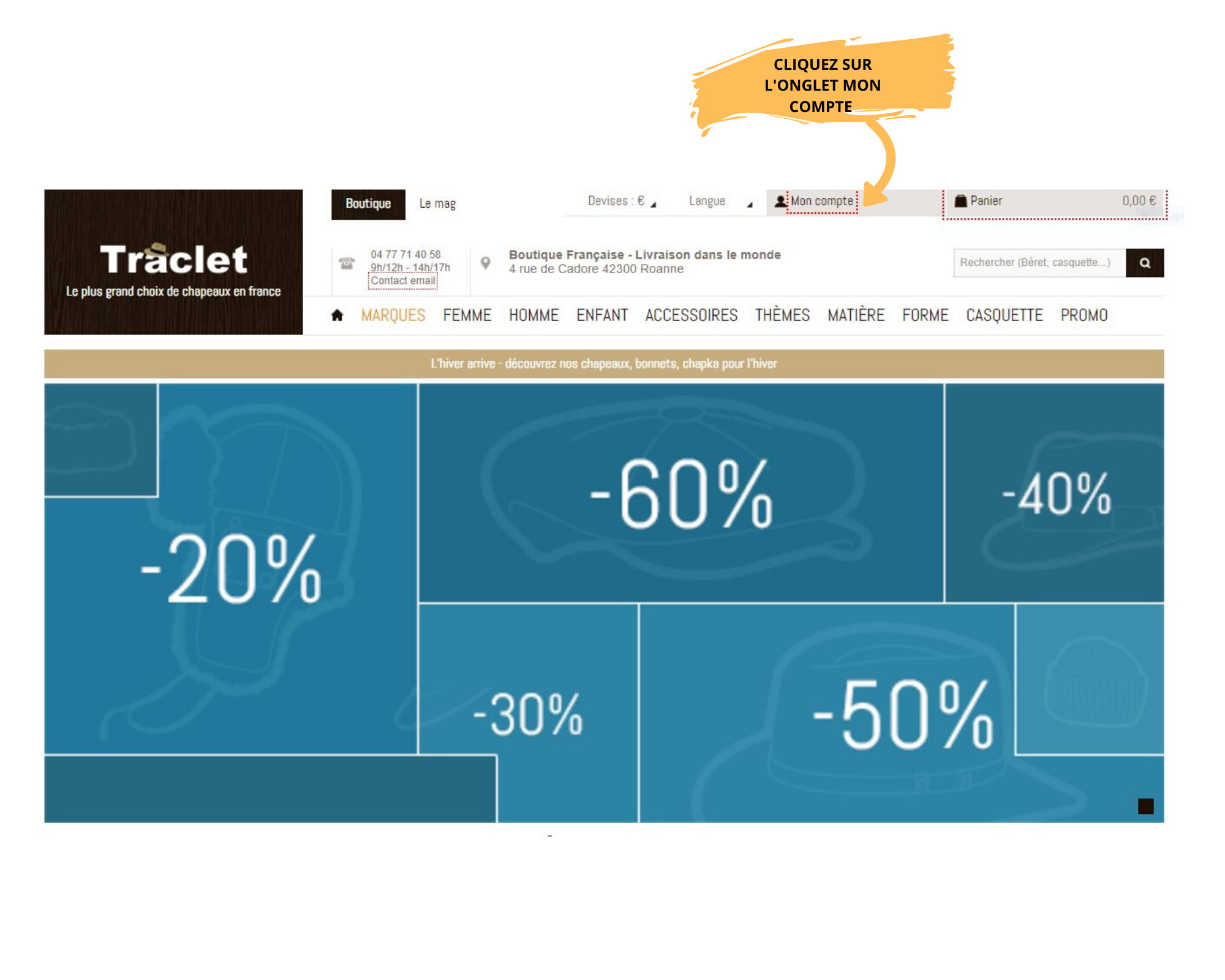 Once connected, you will be able to access all the information you need.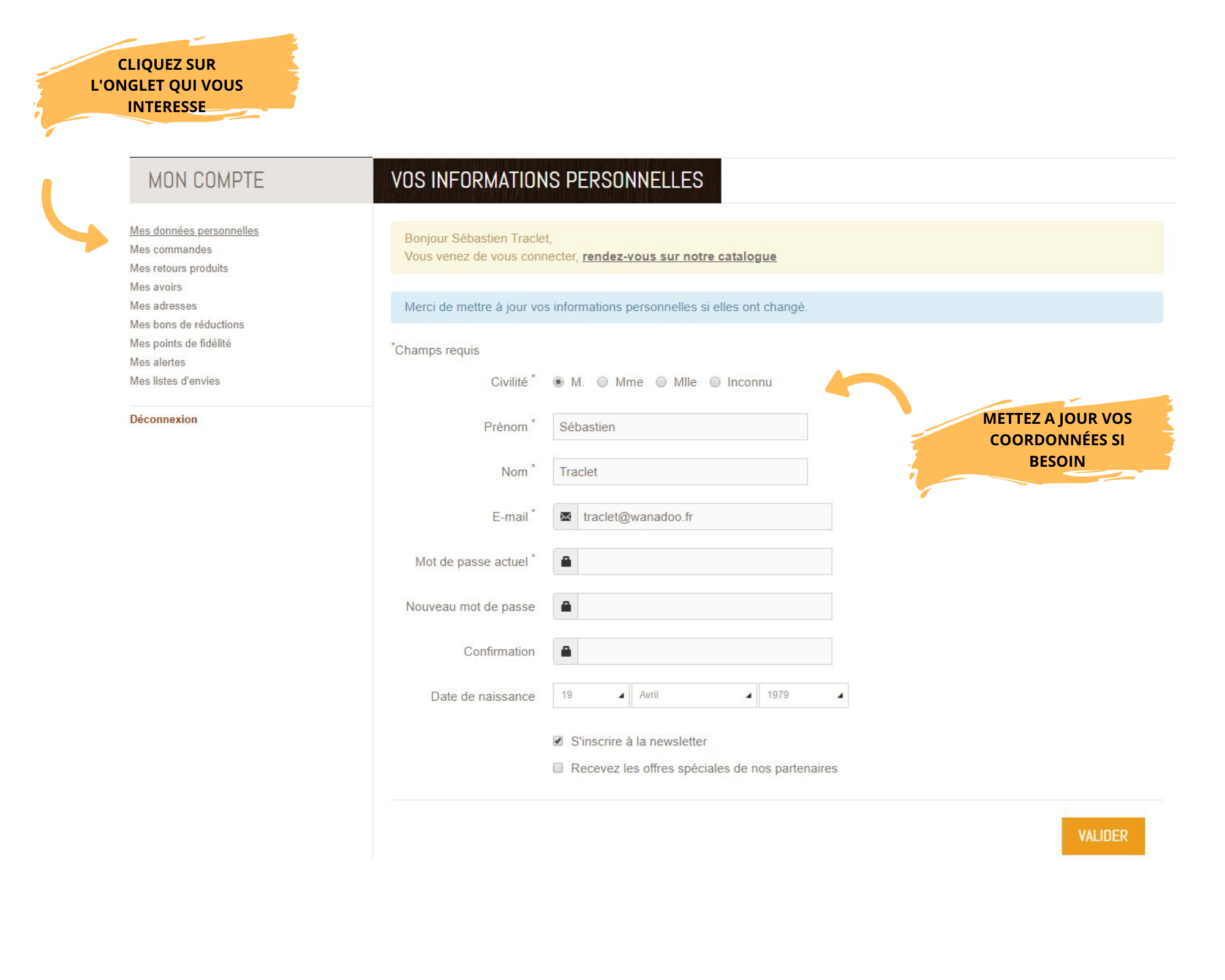 For orders, simply click on the tab "my orders" and you will have access to the history of past orders.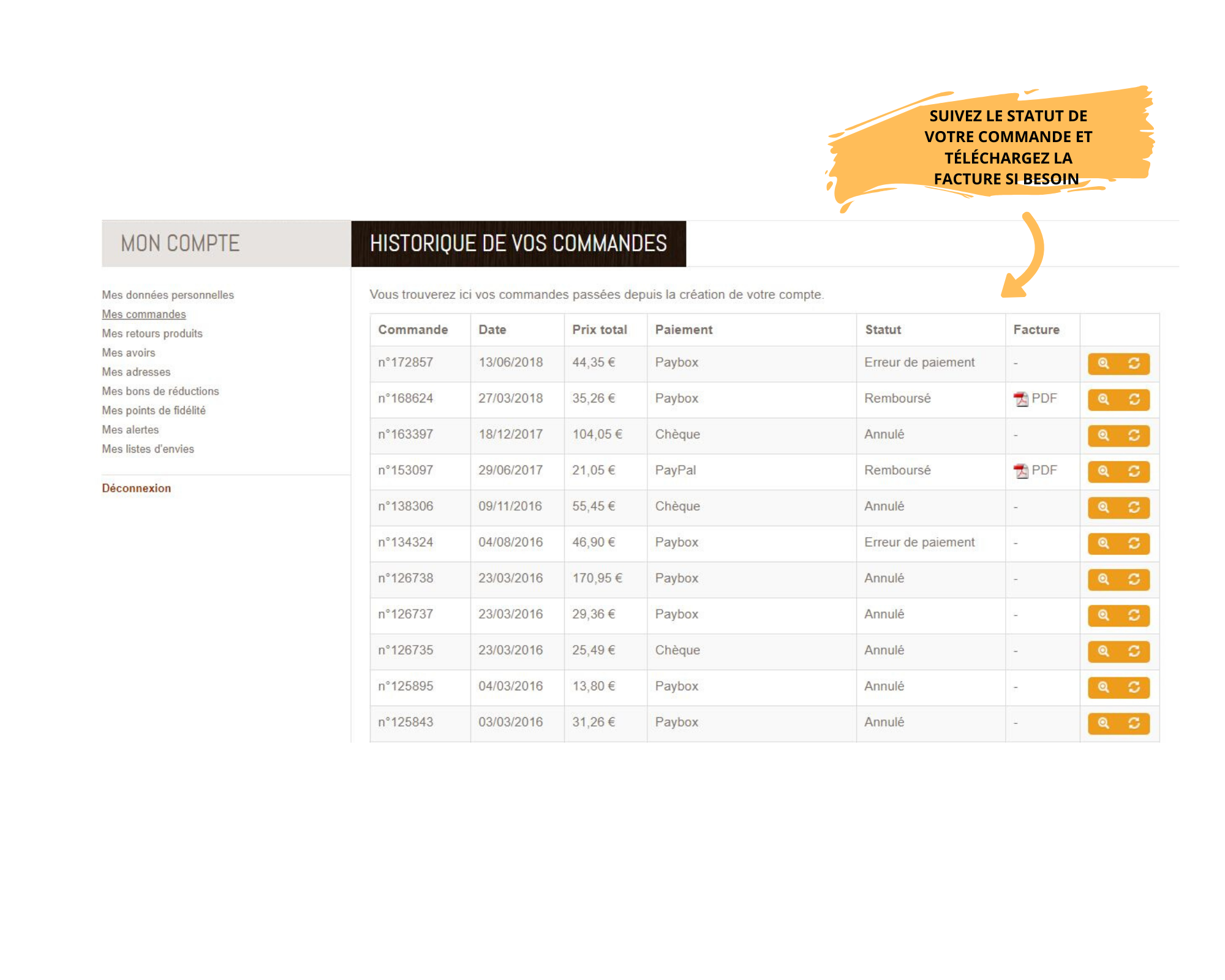 Please note that all emails are processed during the day, our team focuses on customer satisfaction. It will therefore try to answer your requests as quickly as possible. It is also useless to send the same mail several times or to call us to know the progress of an order, our team will contact you to keep you informed. Once the parcel is sent, its progress no longer depends on our service but on the carrier's.
I wish to follow the progress of my order, how can I do this?
As soon as your order has been sent, you will receive an e-mail concerning your package with your order number and the tracking number. You will then be able to follow its progress from your phone or computer. You will be automatically redirected to the tracking platform of our carriers.
You can also check its progress by logging in via your account on our website.
If you wish to contact us by email, please have your order number ready.
I still haven't received my order, what can I do?
Make sure that your product does not indicate a manufacturing delay or a longer delivery time. This information is then displayed on the product sheet when you add your product in your basket but also when you place your order and when you confirm it by email.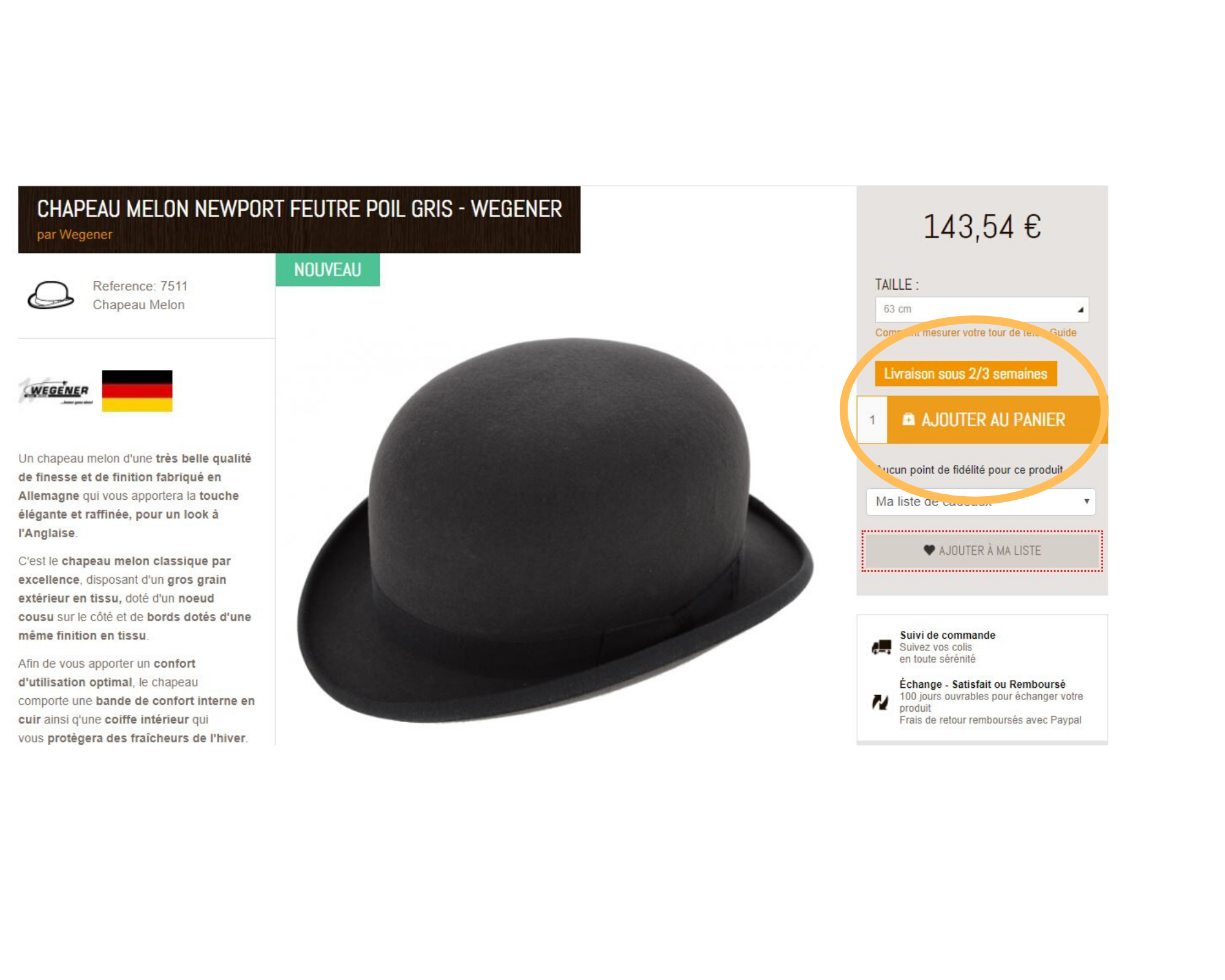 The manufacturing time does not depend on us but on our suppliers, it may vary. For example, we indicate a lead time of 2-3 weeks or 3-4 weeks, but it can be shorter or longer. In any case, you will receive by e-mail all the information concerning this delay and its progress.
If this is not the case, and that delivery indicated a delay between 24h and 48h, take your parcel tracking to check if the carrier has a delay or that your delivery address is not incorrect. All this information will be indicated with the tracking of your package. If the problem persists, we invite you to contact your carrier directly.
Once the package has been prepared from our premises and given to the carrier, we have no impact on it. If you have never received your package but the carrier claims to have delivered it, we invite you to make a claim to the carrier. An investigation will then be carried out, which may take some time. We will not be able to return the item to you until this has been done.
How to make a return and/or an exchange?
Returns are only possible for unsold items. The items must not have been used (neither washed nor worn) and must be in their original packaging as well as their labels.
For an exchange, you have 100 days to send it to us.
For a refund, 14 days from receipt of your order, if this period is exceeded, you will receive a credit note
For the return, it's very simple, just print our return form, indicate on it your order number, your contact details, the reason for the return and if you want an exchange, a credit note or a refund.
Return address :
Traclet millinery
14 Impasse Bardin
42300 Roanne
Please take into account that any package returned without a printed return form will not be processed!

The return costs are at the customer's expense. Unfortunately, we cannot yet offer our customers free return shipping, however for a purchase made via Paypal, the return is supported by the same platform. For more information click here.
When we receive your returned package, an email will be sent to you to acknowledge receipt. If you have opted for an exchange, we will send you back the desired item at our expense. If the item you wish to exchange is more expensive, please enclose the difference by cheque with the package. Otherwise, we will reimburse you the difference (without shipping costs).
For a credit note, the amount of the order (without shipping costs) will then be transferred to your Chapellerie Traclet account. You will be able to use it whenever you want and on any product when you place your order. You will be able to use it on our website as well as in our shop.
How long does a refund take?
Refund is possible for a return within 14 days, otherwise we will offer you a credit note. The refund is also only valid if the item is not sold, has not been worn and still has its tags.
Refunds will only be made when we receive your returned package. An email will then be sent to you as soon as we receive it.
Refunds can take several days depending on your means of payment and the period during which we are working, such as Christmas for example.
Please take into account that any package returned without a return form will not be processed! It is possible that for this reason you have not yet received your refund.
No answer for you?
You can contact us via our contact form. We will respond to your request as soon as possible.
Our telephone number: 04 77 71 40 58, our telephone reception is open from 9am to 12pm and from 2pm to 5pm from Monday to Friday. It is a service that only allows you to answer technical questions or to place an order.
However, if you contact us about an order, such as a late delivery, before making a call, please have your order number ready so that it can be processed as soon as possible